Original Best-1 HummingBird Feeder - Glass Bottle & Plastic Base 32 oz.(1 or 2 Pack)
---
Original Best-1 HummingBird Feeder - Glass Bottle & Plastic Base 32 oz.(1 or 2 Pack) - 1 is backordered and will ship as soon as it is back in stock.
---
Couldn't load pickup availability
Free Shipping to the Continental United States! See our shipping policy for more information.
The Original Best-1 Hummingbird Feeder 32 oz. Glass bottle, bee/wasp proof, built-in perch, & 8 feeding stations The Best-1 Original Hummingbird Feeder holds 32 ounces of nectar. This feeder is bee and wasp proof, features a built-in perch, and has 8 feeding stations. The red bottom is designed to prevent other birds and bees from drinking the nectar, due to the sunken cap. The 32 ounce glass bottle is large enough to keep you from refilling so often and has a lot of eye appeal. This feeder is heavy when full thus eliminating the chance of nectar waste or swinging in the wind. The base separates from the bottle for easy cleaning. This feeder will not rust. Made in the USA

Specifications
Width
6.5 in.
Height
15 in.
Deep
6.5 in.
Nectar Capacity
32 oz.
Nectar Container
Glass / Plastic
Feeding Stations
8
Nectar Filling Open Size
1 in.
Origin Country
Payment & Security
Shop with confidence. Your payment information is processed securely. We do not store credit card details nor have access to your credit card information.
Original Best 1 Hummingbird Feeder 32 Oz
Ordering from JCS Wildlife was easy. I recieved my order quickly and it was well packed and nothing broken. The price was good and the shipping was free. Thank you, I will shop again and recomend you to my friends.
Original Best 1 Hummingbird Feeder 32 Oz
Took the hummers a little while to figure out the new feeder but now they are feeding together whereas they spent much of their time running each other off with the old feeder. I was looking for a different style because the old feeder seemed to be growing mold or something in the crevices of the plastic base that was difficult to clean. The base of the new one opens to clean. Big improvement.
Original Best 1 Hummingbird Feeder 32 Oz
Great product, and really great service from JC's!! Birds are happy!
Hummingbirds Enjoy This Feeder!
Have had this feeder for years and the birds still love it. Easy to feed, setup, and clean. I have never seen bee's go to it either nor and it has never spilled even when winds are strong. All in all its just a well designed feeder that holds up and that the birds really enjoy.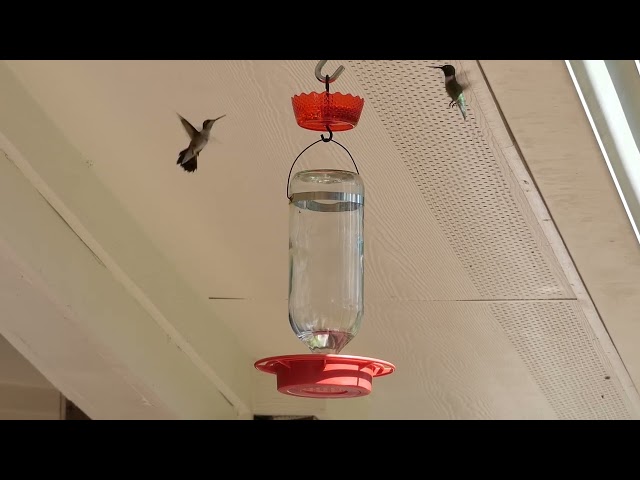 Original Best 1 Hummingbird Feeder 32 Oz
JCs Wildlife offers the best price and service and fastes shipping for the best hummingbird feeder made.