Aspects 434 HummZinger Humm Blossom Hummingbird Feeder
---
Aspects 434 HummZinger Humm Blossom Hummingbird Feeder is backordered and will ship as soon as it is back in stock.
---
Couldn't load pickup availability
Free Shipping to the Continental United States! See our shipping policy for more information.
Aspects HummBlossom Plum Hummer Feeder 434 This beautiful 4 oz capacity feeders join the popular line of HummZinger® feeders that hummingbird enthusiasts have called the best ever made. These feeders are the ideal size for placing a multitude of feeders so our territorial hummingbird friends can each pick their own Blossom to feed from. Available in two beautiful colors, rose and plum, the HummBlossom feeders are as pretty as they are functional. As with all Aspects products, our HummBlossom feeders are proudly manufactured in the USA and backed by our Lifetime Guarantee. Constructed of unbreakable polycarbonate.
Payment & Security
Shop with confidence. Your payment information is processed securely. We do not store credit card details nor have access to your credit card information.
Perfect For Non Migration Times
This is a nice small feeder perfect for those times of the year when there are not as many birds coming thru....but there are still some. The small size means you don't have to feed much sugar water, and is also easier to clean and store. Also a good feeder to use to pull the aggressive birds away to another feeder. Built very well, dishwasher safe, lifetime warranty, and Made In The USA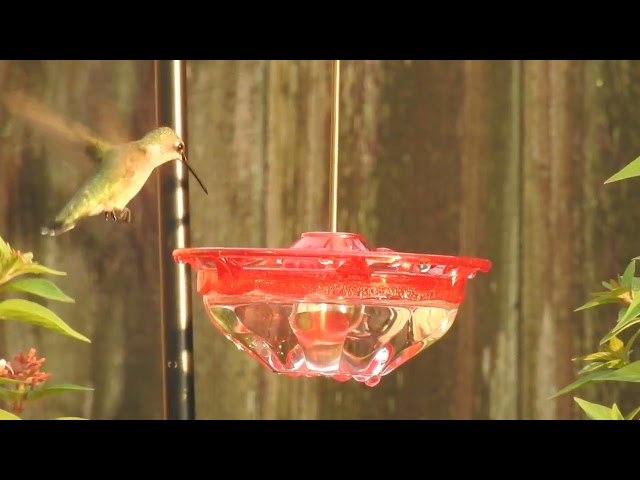 Aspects Mini Hummblossom Hummingbird Feeder 434 Plum 4 Oz
I will be putting feeders out this week in anticipation of the return of the Ruby Throats. These feeders are excellent in my opinion which is why I purchased this set to add to the Hummblossoms I already have.
Aspects Mini Hummblossom Hummingbird Feeder Plum 434
I just got my first one today. I also use and love the Aspects 8 ounce hummzinger High View.!This beautiful little HummBlossom feeder lives up to the product description. It is quality made in the USA of the same polycarbonate as other hummzinger feeders. I put it up as soon as I opened it and the bummers were using in within an hour or less and have continued regularly all day long till dusk. Love the high view perch and so do the bummers. They tend to perch for longer periods between drinks. Of course since they are smaller they are not quite as thick but still quite sturdy and come with Aspects' lifetime guarantee. The smaller size means I can put even more feeders in various places. The plum color is gorgeous (purple is my favorite color so I will be glad to have 2 plum ones- my second is en route). I highly recommend this beautiful little feeder. Bees have not been near it- they can't reach the nectar. It does not leak or drip and is so easy to clean! It is nice to spend less time on cleaning- leaves more time to watch and enjoy these beautiful little birds. I love this little feeder so much I just ordered 2 of the rose colored ones also! This year I did not get my hummingbird feeders out early enough but still have been able to attract a fair amount. With these beautiful feeders and an early enough start next year, I am quite sure I will be having many more bummers for the entire season!!
Aspects Mini Hummblossom Hummingbird Feeder Plum 434
I bought 3 of these tiny feeders to use when the hummers first come to the yard. Each male prefers his own feeder, you know! I have over 40 feeders going once things get in full swing and these little ones will be perfect for areas that catch a lot of sun, and the nectar needs to be refreshed daily once the heat of summer sets in. I do wish they had the built in ant moat like the larger feeders of the same brand.