Aspects 433 HummZinger HummBlossom Feeder, 4 oz, Rose
---
Aspects 433 HummZinger HummBlossom Feeder, 4 oz, Rose is backordered and will ship as soon as it is back in stock.
---
Couldn't load pickup availability
Free Shipping to the Continental United States! See our shipping policy for more information.
This 4-ounce HummBlossom feeder is the ideal "mini" size for placing a grouping of feeders nearby, so territorial hummingbird friends can each pick their own Blossom to feed from. The feeder includes a High View perch that invites hummingbirds to rest comfortably as they drink from any of three feeding ports while also offering an unobstructed view of the birds. Bright colored cover attracts hummingbirds from a distance and is easily removed so the bowl can be cleaned quickly and thoroughly. Constructed of unbreakable polycarbonate. Available in a beautiful rose color- the HummBlossom feeder is as pretty as it is functional..

High View perch for optimal viewing

Easy cleaning and filling

Drip and leak proof

3 feeding ports

4 ounce capacity
Payment & Security
Shop with confidence. Your payment information is processed securely. We do not store credit card details nor have access to your credit card information.
Love The Small Size!
This is a nice small feeder perfect for those times of the year when there are not as many birds coming thru....but there are still some. The small size means you don't have to feed much sugar water, and is also easier to clean and store. Also a good feeder to use to pull the aggressive birds away to another feeder. Built very well, dishwasher safe, lifetime warranty, and Made In The USA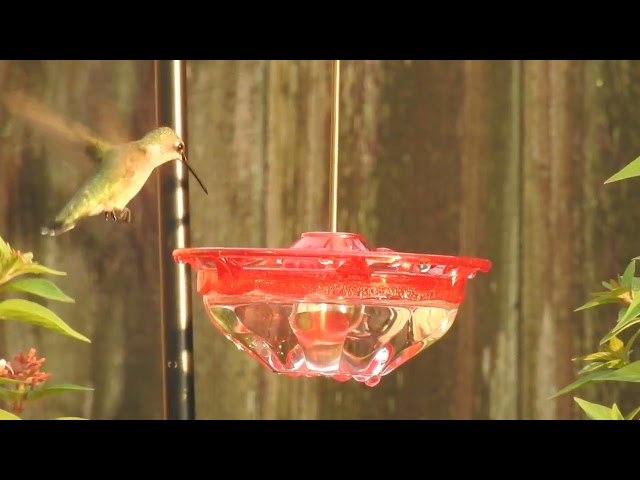 Aspects Mini Hummblossom Hummingbird Feeder 433 Rose 4 Oz
I am very pleased with the way the Aspects Mini HummBlossom Feeder holds up to the Heat, Cold, Wind and the Rain. It is very east to clean and best of all the Hummingbirds Love It!!
Aspects Mini Hummblossom Hummingbird Feeder 433 Rose 4 Oz
Our hummingbirds LOVE this feeder!